HAMMER TIME!
In Marvel Studios' Thor: Ragnarok, Thor is imprisoned on the other side of the universe without his mighty hammer and finds himself in a race against time to get back to Asgard to stop Ragnarok – the destruction of his homeworld and the end of Asgardian civilization – at the hands of an all-powerful new threat, the ruthless Hela. But first he must survive a deadly gladiatorial contest that pits him against his former ally and fellow Avenger – the Incredible Hulk!
MADE IN AUSTRALIA
MADE IN QUEENSLAND
Thor: Ragnarok was filmed at Village Roadshow Studios on the Gold Coast and surrounding locations in Queensland, Australia.
The production was attracted to Australia thanks to the support of the Australian Federal Government, investment by the Queensland Government through Screen Queensland and support from the City of Gold Coast's Film Attraction Program.
Ausfilm congratulates the cast, crew and all our member companies who contributed their creative talent, state-of-the-art facilities and expert services on the film.
THOR PREMIERE ON GOLD COAST HAMMERS HOME QUEENSLAND'S SCREEN SUCCESS
Screen Queensland welcomed the cast and crew of Thor: Ragnarok, and the Disney team back to Queensland to celebrate the premiere on 13 October, including Chris Hemsworth and director Taika Waititi.
Thor: Ragnarok, filmed in Brisbane and on the Gold Coast in 2016, is now taking the work of Queensland's creative talent to screens around the world. The major Marvel production is hammering home the message that Queensland is a screen hub and a location of choice for both international and domestic screen productions. Thor: Ragnarok employed more than 1000 Queensland cast and crew, and injected an estimated $142 million into the Queensland economy.
VILLAGE ROADSHOW STUDIOS THE HOME OF THOR:RAGNAROK
Village Roadshow Studios located on Queensland's Gold Coast was proud to have been home to Marvel's Thor: Ragnarok from January 2016 – December 2016.
With some of the most diverse and unique locations in Australia, along with world-class crews and infrastructures complementing our state-of-the-art studios, the Gold Coast is a one-stop destination for filmmakers and this was on display during the production of Thor: Ragnarok.
Thor: Ragnarok utilised the entire Village Roadshow Studios site including all nine sound stages, production offices, wardrobe, construction, lockups and storage areas. Excitingly, Thor: Ragnarok was the first production to film in the newly constructed, Sound Stage 9, which at 40,000sq ft is the largest sound stage in the southern hemisphere.
In addition to the studios foot-print site, two purpose-built backlot sets were created in the studios adjoining paddocks. This unique space provided the production an area to create two large outdoor sets in an area that was close to production.
Big-budget productions create huge economic benefit to the region and allow for local crews to hone their skills while working alongside some of the best film-makers in the world. During production on the Gold Coast, Thor: Ragnarok employed almost 1300 Australian crew which kept the Studios buzzing all year.
Australian VFX Vendors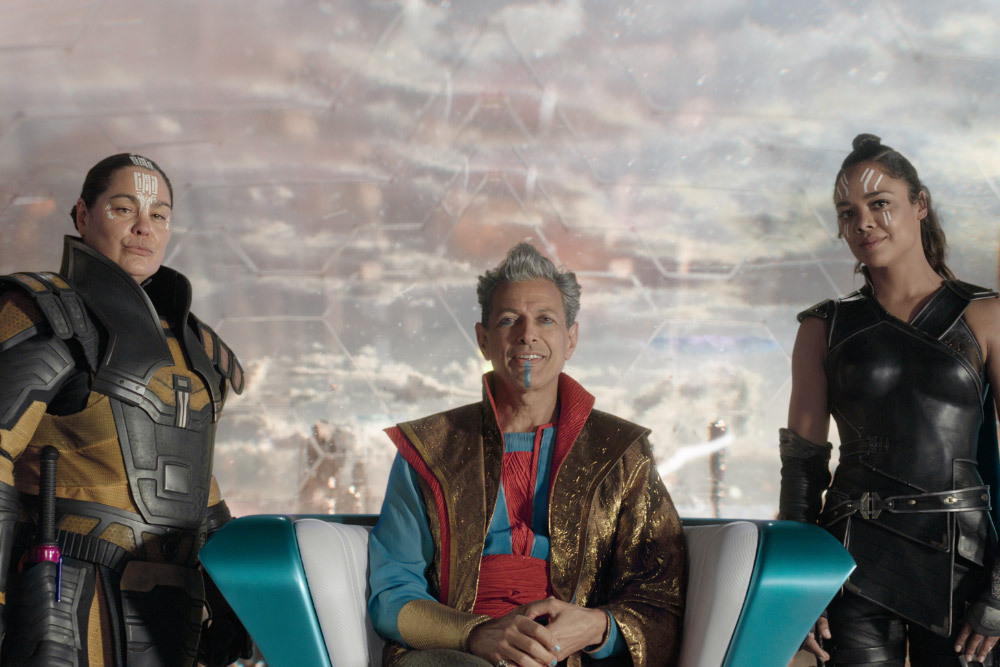 ILOURA'S DESTRUCTION OF ASGARD FOR MARVEL
Deluxe Iloura joined the Thor: Ragnarok project on the first trailer when Jake Morrison, the overall VFX Supervisor, invited them to work on two very VFX heavy shots that depicted the destruction of Asgard – a huge shock wave of fire that passes through the city destroying everything in its wake.
The Iloura team used Clarisse software to lay out all the city buildings and then ran Houdini FX simulations for the fire and smoke that leaves the city charred and desolate. The success and impact of the trailer shots led to a subsequent award of 170 shots over three sequences that took up to 16 weeks to complete.
Iloura's VFX Supervisor, Dan Bethell, oversaw the work mainly covering Thor's encounter with Grandmaster (Jeff Goldblum) on Sakaar. The bulk of the shot work involved enhancing plate photography and, in some cases, inserting a full CG 3D environment, decorating props and touching up aspects of the wardrobe of the cast to give it a more armour like and metallic appearance. Artists also swapped out a practical keyboard for an imaginative Jack Kirby-inspired CG one that affected the scene's colour palette when played.
One of the biggest challenges was the shots for the scene in which the Grandmaster melts one of his subjects into a disintegrating pile of flesh. The FX team inserted a match-moved digital double as a base for the melting bone and muscle FX and then used Houdini to simulate the smoke and steam that eventually covered up the grotesque deformation of the body which ultimately landed in a pool of goop on the floor of the Grandmaster's throne room.
The team also created the vast Sakaar cityscape that needed to be placed beyond the palace windows, this was achieved by laying out shots using a 3D environment and again rendering the assets through Clarisse before touching up the fine details and skies in the digital matte department. Flying spaceships were also built, animated and positioned in the sky to give the illusion of a thriving futuristic metropolis of Sakaar.
Thor: Ragnarok was Iloura's second project for Marvel following a similar scope of work on Spider-man: Homecoming.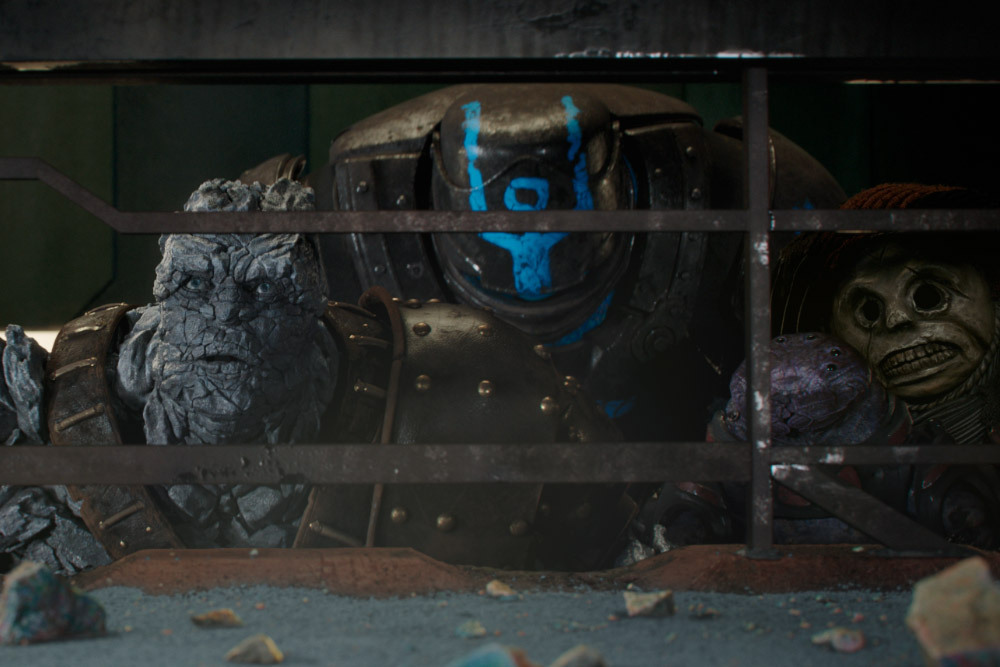 LUMA CREATES TAIKA WAITITI'S KORG CHARACTER
Creative studio Luma delivered nearly 200 shots for eight sequences in Marvel's Thor: Ragnarok. In the film, Thor finds himself in a lethal gladiatorial contest against the Hulk, and he must fight for survival and race against time to prevent the all-powerful Hela from destroying his home and the Asgardian civilization.
After working closely with VFX Supervisor Jake Morrison on Ant-Man, Luma was thrilled to once again collaborate with Morrison and New Zealand director Taika Waititi for Marvel's recent action-packed blockbuster. Luma VFX Supervisors Kevin Souls and Brendan Seals led the Los Angeles and Melbourne teams respectively to deliver stunning visual effects and animations for key sequences and characters in the film.
In particular, Luma animated the incredibly popular Korg character – the hulking rock beast from the Marvel comics. Korg is a fully CG character and was performed on-set in a motion capture suit by Waititi. This allowed Korg's performance to be an ever-evolving collaborative process involving lots of improvisation and playful direction from Waititi. Animation Supervisor Raphael A. Pimentel recalls, "from the very beginning of the process we knew that Korg was going to be a great character. Korg's relaxed demeanour and laid-back nature was the essence of what we needed to convey in our animations".
Luma also built and animated Korg's excitable sidekick, Miek, in-house. Miek is a member of planet Sakaar's native race of insectoids and loves to practice a form of martial arts called Wushu. After receiving Marvel's brief on the character, Luma shot high-energy punching, kicking, jumping and flipping in their motion capture studio so that animators had a more specific type of motion to use in their shots. Miek's movements are essentially driven by joy sticks in his tiny hands, which also controls his exoskeleton.
Korg's relaxed demeanour and laid-back nature was the essence of what we needed to convey in our animations.
Luma built and sculpted Biff from the ground up for his appearance in the 'Parade of Victors' sequence. The team began with detailed concept art, which was then handed over to Character Supervisor Matheiu Aerni to run with the designs. He pulled reference from rhinoceros skin, lamprey eels, and even from the elaborate costume design in Thor to achieve the look of the character. Biff is intended to give the audience a little jolt, so animators ensured that he felt weighty and imposing, his skin craggy and revolting and his roar freakishly terrifying.
Luma's extensive work on Thor: Ragnarok also included creating elaborate set designs and extensions for a number of major sequences in the film, including the 'Boys Go to Garage' sequence and creating a beer dispensing robot in the pre-fight staging sequence. Concept Artist, Nicolas Pierquin dug deep into the work of Jack Kirby, one of the most influential and prolific of Marvel's artists, to draw inspiration for the bot, which Marvel instantly loved.
RISING SUN PICTURES HAMMERS OUT VISUAL EFFECTS FOR MARVEL'S THOR: RAGNAROK
Rising Sun Pictures (RSP) team spent more than 18 months helping to craft some of Marvel's Thor: Ragnarok most memorable, creative and technically challenging scenes, and produced more than 170 final visual effects shots for the film.
"We were honored to be selected by Marvel Studios as a vendor on this film, and proud of the work that we delivered," says President Tony Clark. "We have been systematically growing our human and technical resources, especially in character animation, to tackle complex, large-scale projects, while maintaining the artistry, craftsmanship and attention to detail that are hallmarks of RSP. The results are evident in Thor: Ragnarok." Nearly 200 artists took part in the project for RSP.
RSP on-set Visual Effects, concept and pre-vis supervisor Adam Paschke headed an on-set team that gathered practical data and provided technical advice during the shoot. Production was followed by months of character animation, visual effects, 3D, matte painting and compositing at RSP's Adelaide studio to produce the finished scenes.
RSP took the lead in slow-motion battle scene. The recently expanded character animation department created photo-real warriors, horses and digi-doubles.
"We were honored to be selected by Marvel Studios as a vendor on this film, and proud of the work that we delivered."
Led by senior visual effects supervisor Tom Wood, the RSP team began working on the scene in early 2016 during pre-production. Artists prepared 3D pre-visualizations encompassing every element of the sequence to serve as a guide for subsequent production and post.
'The Palace Fight' depicts a confrontation between Hela and Thor that plays out over some 60 shots. Although live action elements were shot on a practical set, the production ultimately chose to have the entire background replaced with a 3D model created by RSP. "We produced a palace that was much bigger and with a higher ceiling than was possible on any stage." explains Wood. "It was more spread out and more opulent."
In the finished scene, Thor is the only non-digital element. "It meant that we had to extract Chris Hemsworth from the plate with no blue screen. We literally rotoscoped everything, including his hair," observes 2D Lead Jess Burnheim.
'The Bifröst Bridge' appears in another scene involving a pitched battle, this one pitting Hela against Thor and Loki. "The Bifröst has been seen in previous Marvel productions, but in Thor: Ragnarok it has a unique look because we're inside it," Burnheim explains. "We had old reference to work from, but we had to develop the effect further and create something that would work with the plate photography."
RSP also contributed to a scene featuring Hela's troop of skeleton soldiers, which again involved the use of digital doubles. Additionally, artists created a 3D version of Thor's famous hammer for a scene where it is crushed by Hela.
Despite the project's complexity, lengthy schedule, and growing shot list, the work proceeded smoothly. RSP's integration of animation, character development and compositing facilitates collaboration between departments and allows the studio to turn out iterations and finished work fast.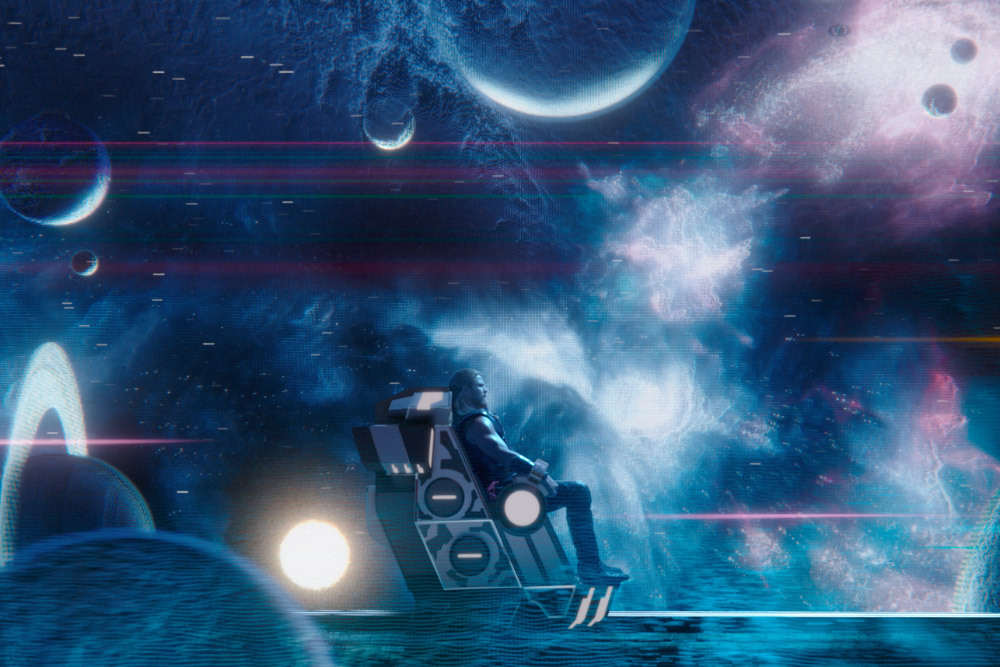 FIN DESIGN & EFFECTS MEETING WITH THE GRAND MASTER
With their strong tradition of using visual effects to illuminate a story, Fin Design and Effects was selected to complete a key sequence in the latest Marvel Universe blockbuster – Thor: Ragnarok.  Introducing a brand new character in the form of Jeff Goldblum's Grand Master, Fin's sequence also kicked off an exclusive 12 minute preview screening of the movie at the San Diego Comic-Con, enjoying a very enthusiastic reception from the assembled Marvel fans.
When Thor, is taken prisoner on the planet Sakaar he is forcibly hauled through an Epcot-style induction tour to explain to him his new destiny as a gladiator. Production supplied only foreground footage of lead actor Chris Hemsworth's performance against greenscreen, tasking Fin with designing and rendering the intergalactic theme park world around him.
Led by Fin's VFX Supervisor Stuart White, Fin's crew designed a journey traveling from photoreal sci-fi tunnels through a holographic light show to a trippy ghost train ride finale, exercising the breadth of Fin's VFX pipeline in the process.  Battling gladiators ripple with Houdini-generated digital distortion while simulated CG crowds look on from the bleachers of an arena.  In another scene Thor, strapped into a CG chair, flies past planets and galaxies made into holograms via heavy image treatment in Autodesk Flame courtesy of lead compositor Justin Bromley, backed up by a team of Nuke artists.
"It's great to be asked to bring Fin's 15 year background of visual storytelling to bear on such a creatively open brief as this one", observes White. "Seeing our images on the big screen during such a pivotal story beat is always a great thrill for the talented guys who worked so hard on the film."
Australian Vendors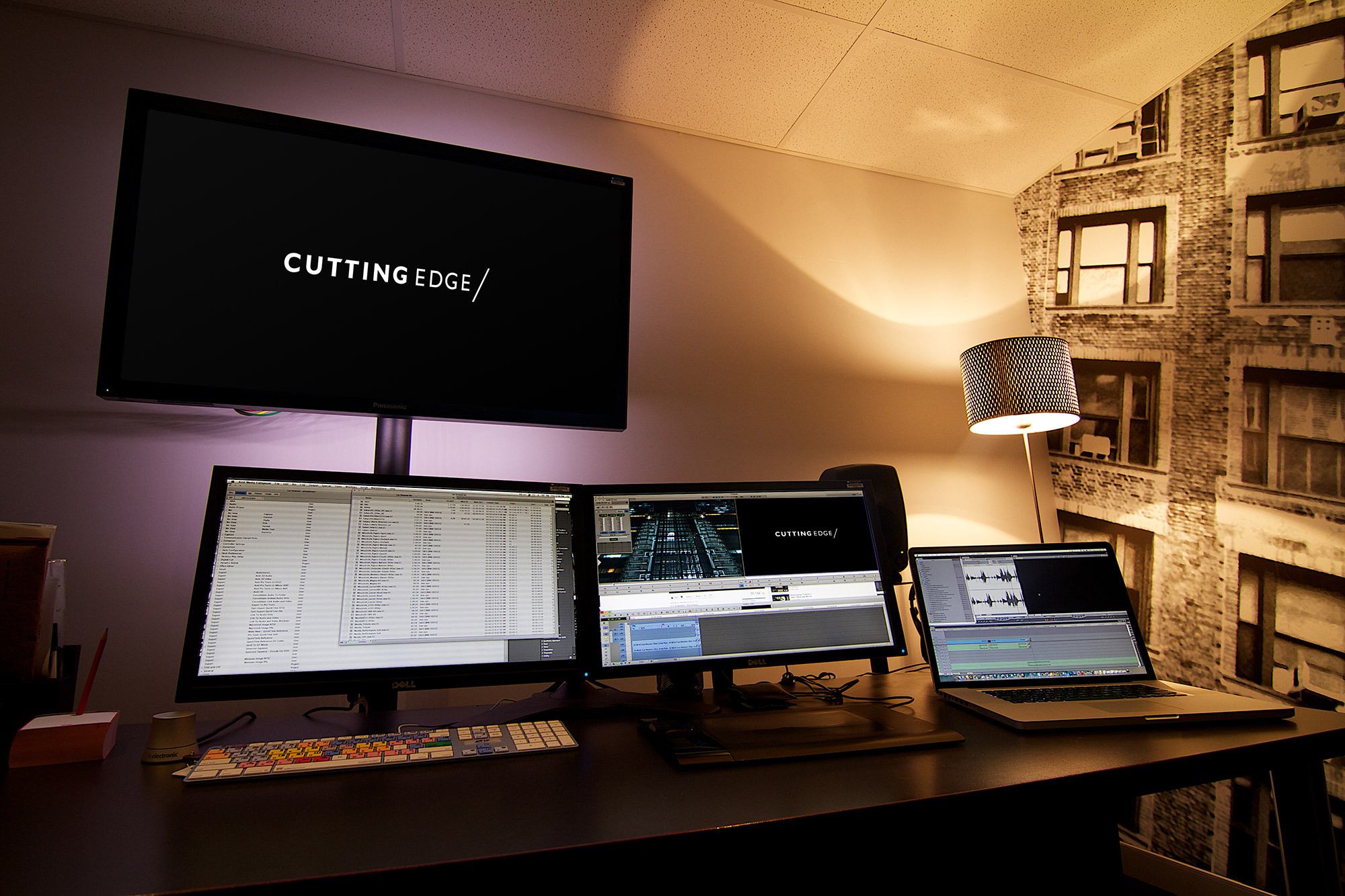 CUTTING EDGE TECH SERVICES HOST THOR:RAGNAROK
Cutting Edge Tech Services assisted the production with an extensive editorial setup. The Marvel production took over all nine sound stages at Village Roadshow Studios (VRS), including Cutting Edge's VRS facility for editorial. The Tech Services team was there to set up the suites and offer ongoing technical support.
Cutting Edge Tech Services' VRS facility was the perfect compliment to the production. Tech Services played host, providing seven editorial suites and a custom built 4k theatre for viewing editorial and dailies.
SHOWFILM DELIVERS ON THOR: RAGNAROK
Showfilm Travel Services worked closely with the Thor: Ragnarok production team, advising and booking travel from the US to and around Australia.
Showfilm provided a coordinated approach for all international and domestic flights, accommodation, car rental and road transfers. All negotiations were done through Showfilm's strong supplier relationships, to achieve better travel deals for the production.
Showfilm's recent credits include: Pacific Rim: Uprising, Alien: Covenant, Kong: Skull Island and The Shallows. Showfilm are currently working on Aquaman and a number of Chinese co-productions and Australian projects.
Showfilm Travel Services, a division of Show Group Enterprises, is Australia's leading film production and entertainment travel specialists.
FOX LIGHTING ON LIGHTING THE GOD OF THUNDER
Fox Lighting is Australia's premier lighting equipment supplier offering a wide range of equipment for productions in Australia, New Zealand, Oceania and Asia.
Conveniently located in Sydney and on the Gold Coast, Fox Lighting is best positioned to cater to a full spectrum of production types ranging from major motion picture production, television series, commercials, stills photography and events.
Fox Lighting has an inventory of over 86,000 lights and associated accessories and supplied Tungsten, HMI, Kino Flo, Lightning Strikes and underwater lighting on Thor: Ragnarok, as well as a variety of stands, dimmers, cable and distribution boards.
Other recent credits include Aquaman, Alien: Covenant, The Lego® Ninjago Movie, Peter Rabbit, Chosen, Pacific Rim: Uprising, Hacksaw Ridge, Bleeding Steel, Kong: Skull Island, Mad Max: Fury Road, Pirates of the Caribbean: Dead Men Tell No Tales, The Shallows, San Andreas and Unbroken.